The Addictive Blog Award!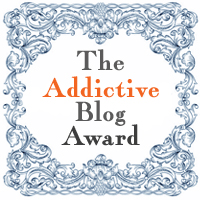 I have only been blogging for a short time, but I am finding that it is something that I enjoy more than I could have imagined.  So when I was awarded The Addictive Blog Award by Minnie from http://www.thelady8home.com/ I was thrilled to say the least.  She has been a great encouragement to me when it comes to my blog and I have really enjoyed her blog and the beautiful things that she shares.  If you have not seen http://www.thelady8home.com/ I encourage you to check out the creativity and beauty that Minnie shares.
There are several reasons that I started blogging.   When I was 18 if someone had asked me where I saw myself down the road I would have never  described where I find myself today.  Does that mean I didn't follow my dreams?  No, it means I followed my heart and God has placed me here today.  I have grown up to be a wife and stay at home mom of 5.  I spend my days taking care of my family and drinking every moment in, because life is full of seasons and change and I want to embrace each season and change as it comes my way.  The blog is one way that I document the memories that I am making and sharing with my family and friends.  I love to share recipes, my family life as well as other things that are dear to my heart.  My family and I have found great joy in sharing our life with others.
The best part of being award The Addictive Blog Award is that I get to pass this honor on to a few well deserving blogs that I have come across lately and find to be "Addictive".
1. http://thededicatedhouse.blogspot.com/ I am inspired by by how she finds beauty in so much.
2. http://www.leavingalegacyblog.net/ Inspires others to be aware of the legacy they are leaving.
3. http://www.mommyskitchen.net/ The go to place for family style recipes.
4. http://www.laurenslatest.com/ Amazingly beautiful recipes.
5. http://www.vitafamiliae.com/ Sharing her real story day to day
Please pay a visit to these wonderful and talented bloggers.
The winners: The rules for the Addictive Blog Award are:
Thank the person who nominated you and link them back.
Share a little bit about why you started blogging.
Copy and paste the award onto your blog.
Nominate up to 10 other bloggers you think are addictive enough to deserve the award.